Interested in selling?
Note: you must be 21 with an ID or have one of your parents with you. Everything sold must be handmade by the seller.
New sellers:
You must be an approved seller before you can book a show. I will send you an approval via email when your application has been reviewed.  Once approved you can book a space at shows as they become available. You do not need to reapply each season unless your business or items change significantly.
The application can be found here.
FAQs:
Please review our FAQ page before booking a show or emailing us questions.
Cancellation policy:
While I understand that emergencies occur, please do not book a space unless you are sure you are available for the show.  Filling cancellations is time consuming for me and results in interested sellers having to sit on a waiting list while you hold a space you are not going to use.
All cancellations will have to be through me.  I will maintain a waiting list and I will do my best to find a replacement from the waiting list for cancellations. If I find a replacement, I will issue you a refund according to the following schedule.
More than 30 days notice: Space fee minus $10 = $25
More than one week but less than 30 days notice: 50% refund = $17.50
Less than one week but more than 48 hours: 25% refund = $8.75
Less than 48 hours notice: No refund regardless of if I am able to fill the space.
No Shows: No refund and a new application will be required to book future dates.
Our Floor plan:
We are a small show and in order to maximize the number of sellers we can include, all spaces are and 4 feet wide and about 4 feet deep. We will need to strictly enforce the space sizes and if you come with a display that is larger, you will be required to rearrange.   The space is tight.  There will be about a foot between spaces to allow sellers to get behind their display and there will be room for 2 people in chairs behind the display.  Sellers can book only one space per show.  If you like a lot of space to spread out, this is not the show for you.
You must bring your own table or display to the event. There are plenty of chairs at the Empty Bottle, but they aren't very comfortable, so you may want to bring your own.
The layout is here.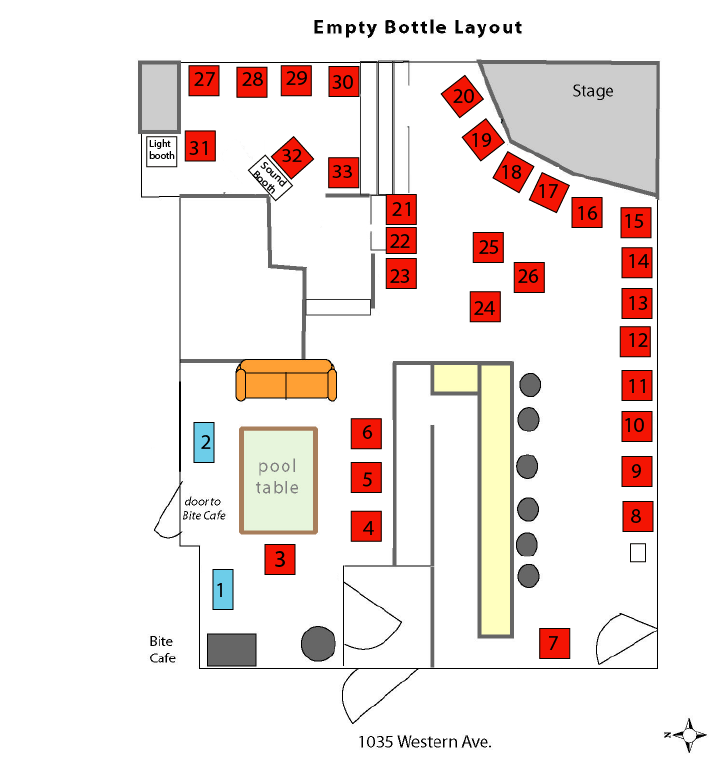 To Get Your Confirmed Space:
Review all of the information here and on the FAQ page.
Join our mailing list to get notice of when new shows become available.
Purchase a space for the day(s) that you are interested in selling. Payment is through Paypal.
If you purchase a space, you will be sent a confirmation, more detailed information, and instructions a couple of weeks before the event. We will also put your information onto a list for the website, which is updated at least a week before the show. Other sellers have told us that getting listed on the website has really helped their own internet traffic, so this is nice for promotion. We also keep the pages for past events, so your link will be on there for quite a while after the show.
Pre-Market Prep:
An email is sent to sellers a couple of days before the event, so you can modify that with a personal message. Also invite your contacts to our Facebook event for the month.
Make, make, make lots of things! Our sellers have had good results.
Items to bring:
Your ID, because this is a bar and you do need to be 21+ or bring your mom.

Table & chair. – There are chairs there, but they are not comfortable and there are not enough for everyone.

Lights and extension cords or candles, as the interior is quite dim.

If you're in spots 24, 25, or 26 you will also need duct tape for your extension cord so no one trips.

Display trees, dishes, etc. – For your items.

A mirror. – If you have items for customers to try on.

Business cards – Because you never know who might want a custom piece, and it is good if you want to build brand recognition and direct people to your website.

Cash box/storage and change for customers

Credit card reader, if you have one – The Empty Bottle has a cash machine, but it sometimes runs out of money. Check out square.com
Day of the Show Schedule:
Setup begins at about 10:30 am. Please do not come earlier than 10:30. You won't be able to get in. If you get there early, please go enjoy a snack at Bite Cafe.

Please make sure you and your stuff are in the door to set up before noon. The load-in door is locked at that time and late comers are disruptive to the other sellers. If you arrive after 12 pm, you may not have your guaranteed spot. Sometimes people are moved into no show spots to give everyone more space. These decisions will be made at noon. If you anticipate being late a call to the Empty Bottle at 773-276-3600 is helpful.

Market opens at noon

Teardown at 4:00 pm (we need to be out by 5pm to allow time for the evening bands to set up). Please don't tear down until 4. We do get last minute shoppers and the market should stay open until 4. If you need to leave early, please let us know.